Here I am again, taking pictures of buildings. This time my destination is the Marcus Garvey Park and its surrounding Mount Morris neighborhood in Central Harlem.
This neighborhood is famous for its original late 19th century brownstones that make you feel like you are back in another era. I have to say, as I was walking around the park I became obsessed with photographing these stunning buildings. I remember when I first came to New York years ago, I was really impressed by these townhouses and I could someday imagine myself living in one.
Because it is increasingly difficult to find a section of the city that still has such well-maintained brownstones older than a century, Mount Morris Park one of the most desired neighborhoods in Harlem. Not only they are nothing short of mansions, they are also surrounding a beautiful park and only a few steps from the most important Harlem Shopping on 125th . Some trendy restaurants and cafes have opened around this area, supported by customers who now live in this newly gentrified area
A few decades ago, Harlem was the forgotten section of Manhattan. Things started to change in the 1990s when developers took a renewed interest in the area. They built residential buildings and restored old townhouses. After former President Bill Clinton opened his office on 125th Street, yuppies, artists and regular New Yorkers followed his lead and moved uptown from other neighborhoods. They bought up broken down old grand townhouses for pennies on the dollar and invested heavily to restore their former magnificent architectural luster.
But in in the Mount Morris neighborhood prices are not cheap anymore; a renovated brownstone can sell for more than $3 million.
If you could afford it, wouldn't you like to own a gorgeous brownstone like the ones in this picture?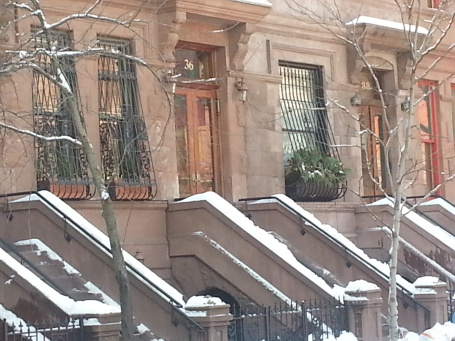 Wouldn't it be nice to go from your townhouse to enjoy a day at the park?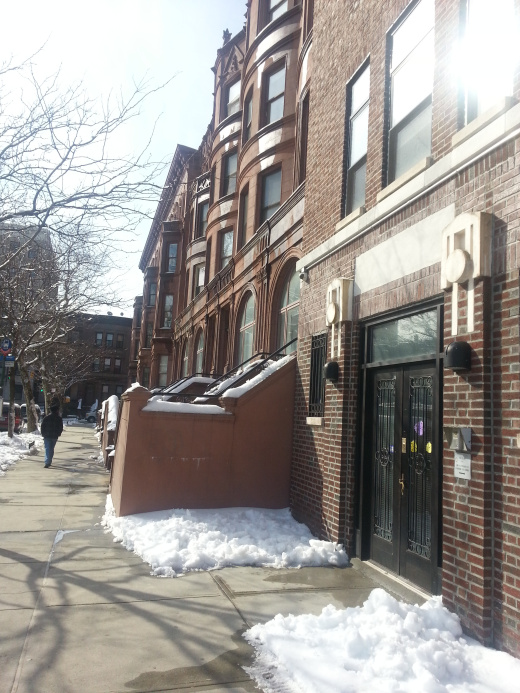 The snow on this tree makes the houses to look even more beautiful.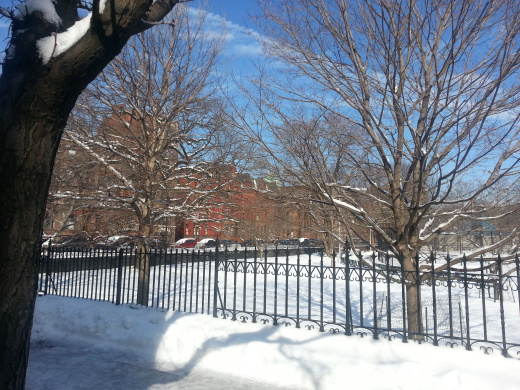 These brownstones on 120th Street are called "LichtensteinRE's Row", because doctors used to live here more than a hundred years ago.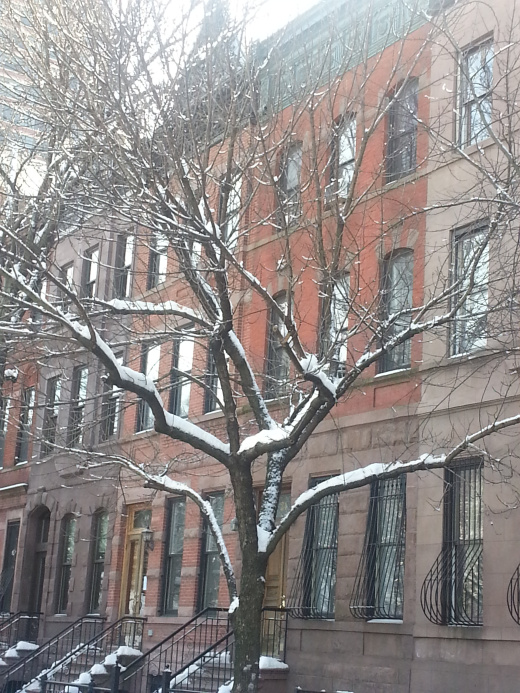 In front of these magnificent entrances, you can imagine going back to the 1880s and see men wearing Top hats and women wearing tea gowns coming down the stairs.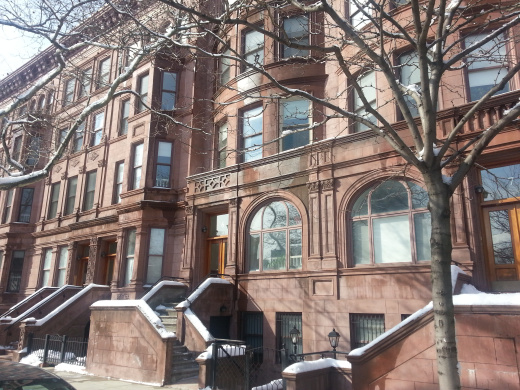 About Mount Morris Neighborhood and the Marcus Garvey Park:
The Mount Morris Neighborhood is the section of Central Harlem in Northern Manhattan that surrounds the Marcus Garvey Park. The park is more than 150 years old and one of the oldest in NYC. It occupies a 20 acre land located between 120th and 124th Streets. At the West is surrounded by Mount Morris Park Avenue and by Madison Avenue in the East. Just like Washington Square Park is build right on and over interrupting Fifth Avenue.
The park used to be known as the Mount Morris Park but its name was changed in 1973 in honor of Marcus Garvey, one of the founders of the Black Nationalist Movement from the early nineteen hundreds.
The park has great amenities in the summer for neighbors to enjoy such as a swimming pool and an amphitheater for outdoors performances. Wikipedia reports that the park has the only surviving one of eleven cast-iron watchtowers placed throughout New York City starting in the 1850s known as Harlem Fire Watchtower, also known as the Mount Morris Fire Watchtower,
The Mount Morris Historic District:
While there are beautiful brownstones all around the park, the finest and most luxuriant houses are located on the west side of the park. These properties are part of the Mount Morris Historic Park District, a 16-block area between 118th and 124th Street and from 5th Avenue to Adam Clayton Powell, Jr. Boulevard (Seventh Avenue) in the West.
These properties were built between the late 19th and early 20th century, representing the style of the Gilded Age.