Commercial Real estate for Sale in NYC
Serving Bronx, Brooklyn, Manhattan, and surrounding areas.
LichtensteinRE.com specializing in Commercial Real estate for Sale in NYC, is a wholly owned subsidiary of Lichtenstein Capital Markets, which is an international commercial real estate investment banking firm headquartered in New York City, the financial capital of the world. As direct lender, underwriting conduit correspondent, and/or as broker we have provided funding on our own account or on behalf of major Wall Street securities groups, financial institutions such as banks, insurance companies, pension funds, unions, accredited institutional, trust and private investors.
LichtensteinRE®™ specializes in sales of multifamily and investment real estate. Having closed hundreds of commercial real estate transactions, we look forward to represent you in the sale of your property to our growing list of thousands of buyers.
LichtensteinRE®™ specializes in procuring financing from $500,000 to $72,000,000,000 backed by international assets with preference toward income producing investment properties. Whether you, or your customer, are in need of fast short term bridge, permanent, construction, purchase or refinancing, Lichtenstein Capital Markets is a service oriented firm whose customers have come to depend upon our proven experience since 1986 for our:
PROBLEM SOLVING ABILITY, CREATIVITY, PERSISTENCE,
RELIABILITY, HONESTY, SERVICE & PROFESSIONALISM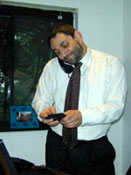 Read more about the company's president
LichtensteinRE®™ Toll Free Number:1-800-242-9888 E-mail: AL@LichtensteinRE.com